At Toagosei America, we formulate cyanoacrylates – also known as instant adhesives, industrial-strength Krazy Glue – and have expanded our portfolio to include Aronix® and Aron Oxetane® UV-curable resin.
UV-curable resin has the following features.
Cost effective: improved productivity and reduced floorspace
Exceptional properties: high-quality physical properties, mechanical resistance, and chemical resistance
Low environmental footprint: reduction of power consumption and volatile substances
UV-curable resins are used in applications such as inks, paints, photoresists, and adhesives.
In this blog, we'll walk through the different types of Aronix® and Aron Oxetane®, as well as their features and most suitable uses.
What Is Aronix®?
Aronix® is a brand name for specialty acrylic monomers and oligomers and UV compounds.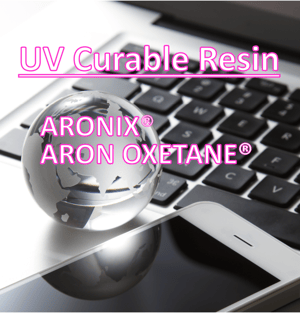 The properties of the cured product depend on the type of alcohol used as the raw material and the number of acryloyl groups in the acrylate molecule. For instance, Aronix® has monomers and oligomers with different properties. When properly mixed, it is possible to manufacture a compound that satisfies multiple required properties. Aronix® is available in a variety of formulations and can be divided into three categories: special acrylates, urethane acrylates, and polyester acrylates.
Special Acrylates
Special acrylates typically exhibit low-irritation and low-viscosity levels, as well as have excellent light-curing properties. They are useful for reducing the viscosity of acrylic oligomers, or polymers, and are used as reactive diluents. Special acrylates can also change certain properties, including enhancing the adhesive strength, increasing heat resistance, and improving the curing reactivity for acrylic oligomers.
Urethane Acrylates
These are acrylates with urethane bonds in the molecule, so there is the feature of having a high cohesion of the cured product. These are suitable for UV adhesives and coatings that require toughness.
Polyester Acrylates
These are acrylates that have ester bonds and two or more acryloyl groups in the molecule. Their features are fast curability, heat resistance, good compatibility with oligomers and polymers. They are suitable for property modification of other oligomers (Ex. urethane acrylate).
What Is Aron Oxetane®?
Aron Oxetane® is the brand name for oxetane monomers. Oxetane monomers are classified as cationic curable resins and are mainly used in combination with epoxy resins. They have higher reactivity than glycidyl ether epoxy resin, so it is often mixed with the glycidyl ether epoxy resin in order to reduce UV irradiation time and irradiation energy.
Aron Oxetane® is also used in the ink for UV inkjet and 3D printers because of its very low viscosity and high reactivity.
Aronix® & Aron Oxetane®: Features & Compatible Applications
Aronix® and Aron Oxetane® UV-curable resin offer a host of additional features and benefits, including:
Faster curing time and increased production efficiency
Non-solvent; improved productivity by shortening the solvent drying process
Curable with LED lamp or visible light; reduction of power consumption (a note that it is necessary to select an appropriate photo-initiator that matches the emission wavelength of the LED lamp and visible light)
High transparency; available for optical parts (ex. adhesive for optical film)
Wide variety of materials; easy to adjust various properties (viscosity, surface hardness, adhesiveness, etc.)
Aronix® and Aron Oxetane® UV-curable resins' standout features make them useful for a broad range of applications, including optics parts, nanoimprint technology, hard coats, and ink for inkjet and 3D-printing processes.
Aronix®, Aron Oxetane® UV-Curable Resin at Toagosei America
Our Aronix® and Aron Oxetane® products are available in a variety of hard and soft formulations that can be custom-designed for a variety of uses. In addition to UV-curable resins, Aronix® products are available for electron beam (EB) curing.
To learn more about Aronix® and Aron Oxetane® or about Toagosei's other quality products and services, reach out to us today or request a quote. Our highly knowledgeable experts are available to help you find the best solution for your project.
To see the main Aronix® and Aron Oxetane® catalog and specifications, click here.
Click the catalogs below for additional information about Aronix® solutions: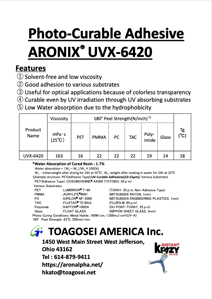 UV Compounds (UV Adhesive, UV Conformal Coating, UV Hard Coating)