5 Common Cyanoacrylate Instant Adhesive Mistakes (And How to Avoid Them)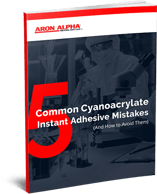 Cyanoacrylate adhesives—such as engineering adhesives, instant glue, and Krazy Glue—are instant adhesives that are commonly used in industrial and commercial secondary joining applications. Characterized by high mechanical strength and a quick curing period, cyanoacrylate adhesives can bond almost instantly with materials when brought into contact with moisture and ultraviolet (UV) light.
However, there are several commonly-made mistakes that can render the process ineffective or inefficient, and it is important to know how to smoothly steer clear of them. This guide walks through 5 of the most common cyanoacrylate adhesive mistakes so that you may avoid them during your projects.
These adhesive mistakes are based on factors such as:
Problematic, incompatible, or inadequately prepared surface conditions
Low-strength bonds resulting from incorrect adhesive application
Disconnected initial set-up and adhesive integration from the get-go
Discover the most common mistakes you can avoid when using cyanoacrylate adhesives by filling out the short form here.