A Complete Guide to Cyanoacrylates for Tier 1-3 Automotive Assembly Applications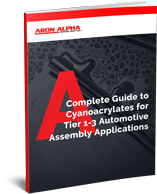 Most commonly known as super glue, CA glue, or by brand names such as Krazy Glue, cyanoacrylate glue has become an increasingly popular adhesive for industrial product assembly applications due to its ability to quickly form powerful bonds.
In the automotive & transportation industries, these fast-curing adhesives are used in the assembly of everything from windshield wiper blades to transmission hoses.
The following guide explores:
Specific automotive & transportation applications

of cyanoacrylates
How cyanoacrylates work

and their material compatibilities
Properties and advantages

of cyanoacrylates
Differences between cyanoacrylates & alternatives, such as epoxies and resins
Selection criteria

for cyanoacrylates
Download your copy today!